Anwoth Old Schoolhouse
Anwoth Old Schoolhouse is situated at the foot of The Corse o' Slakes in the centre of Anwoth, next to Clachan Cottage and opposite Anwoth Old Kirk.
It is uncertain when the first school started in Anwoth but early Presbytery records show that the original school was held in the Church. In 1736 the records state "a young man who resided in the district of Anwoth was appointed teacher." In 1791 the minister gives the number of children attending as 30-40 in winter with a smaller number in summer and the master's salary was £11 per year. In 1809 the salary was 300 marks and in lieu of a house and garden he was allowed "one boll of oatmeal of sixteen stones".
Masters of the school continued to complain re the lack of house and garden and in 1831 "Mr Murray presented a rood of land on Clauchan Farm" for the erection of a schoolhouse at a cost not to exceed £100.
Anwoth Schoolhouse closed as a school in 1872 and the school and schoolmaster transferred to nearby Skyreburn. After its closure it was used for stabling horses and carriages which visited the Kirk, the tethering hook for which can still be seen on the schoolroom wall.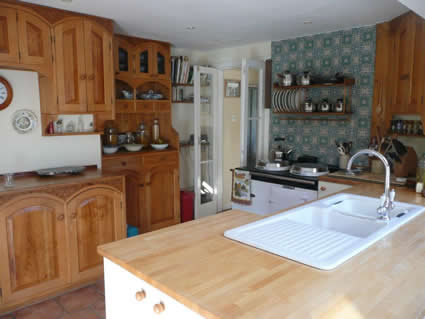 In 1973 the school featured in the infamous cult film "The Wickerman" staring Edward Woodward and Britt Eckland. Some features of the schoolroom, as portrayed in the film, remain the same i.e. the staircase and the brass ceiling lamps. There are views from the schoolroom windows of Anwoth Old Kirk where the graveyard and maypole scenes were filmed.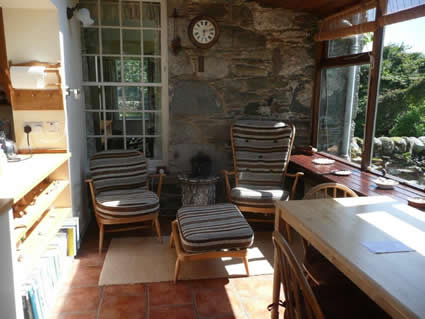 Accommodation is for 2 persons only
The spacious schoolroom provides a comfortable and spacious sitting room with log burning stove, t.v., d.v.d. and wi-fi.
Attractive craftsman built kitchen/conservatory with views of the garden, fishpond and bird tables. Combination oven/microwave and hob for summer lets. Oil fired AGA for winter lets. Fridge/freezer. Washing machine.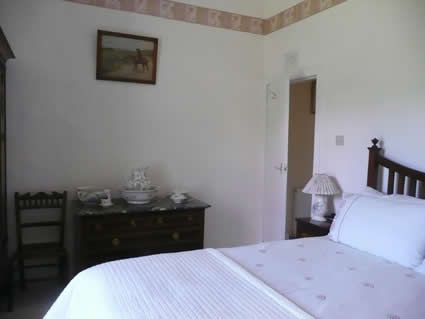 Ground floor bedroom with king size bed.
Bathroom with bath and shower over bath. Toilet and wash hand basin.
Central heating throughout.
Heating and electric included in the price. Wood for stove provided but charged for at £5 per basket. Linen and towels provided and included in the price.
No Smoking.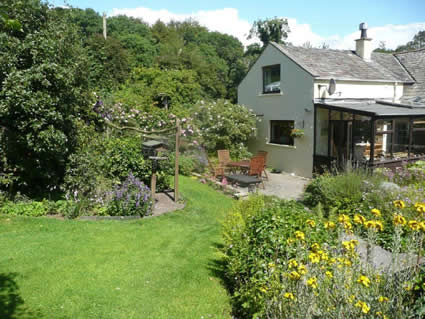 The gardens surrounding Anwoth Old Schoolhouse are informally planted with rare and unusual woodland plants, trees and shrubs. Rhododendron lined paths wind their way alongside the fast flowing burn where the heron and occasionally the otter search for the wee brown trout. The conservatory provides an excellent viewing place to observe the Red Squirrels and many species of birds which visit the garden. Roe Deer, Fallow Deer and Badgers inhabit the neighbouring woodland and sometimes find their way into the garden.